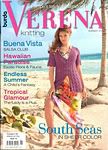 The title sums up my day. I finished up NaKnitMo last night with a grand total of 30,066 stitches, which was 66 stitches over my goal. This was exciting enough, but I just got a message on Ravelry this afternoon (and a text from my soul sister Mary!) letting me know that I had also won something in the NaKnitMo Prize Drawing!!! Very soon I will be the proud owner of the Summer 2010 issue of
Verena Knitting
! A very special thank you to
crosstitchlinda
on Ravelry for donating my prize!!
I went back to the library today for the first time since my pneumonia diagnosis in October. It felt good to be back, even though I only made it 3 hours before ripping the tape from the tape dispenser was making me break out in a sweat and get shaky. I came home then, and after eating lunch took a L-O-N-G nap. I felt refreshed enough from this to bake some Banana Bread this evening, as well as cook dinner, wash a load of laundry, and sew together a strip on the quilt I'm working on. Not a bad day, productivity-wise; however, I really wish my energy level would come back. I really miss it!
I'm worn down again now, but content. I picked up The Lost Hero, by Rick Riordan, from the library, and am looking forward to a hot cup of coffee and reading some of it tonight. Not that there's much tonight left...it's almost 10:00PM now...but I plan on soaking up as much of it as I can before my eyes close. I'm really hoping, being an extension of the Percy Jackson series, that it lives up to my high expectations.